Guide: How to Wear a
Wedding Ring Set
Most of us will only get to enjoy one wedding, so it's essential that we make the most of the chance we're given and do everything the right way. One mistake that many people often make is improper wedding ring etiquette. It may not have a serious consequence on your wedding, but such minute details are what make the rings even more special. That said, here's how to wear a wedding ring set properly.
How to wear an engagement ring
The engagement and wedding rings are two different bands that are worn separately from each other on different occasions. On your wedding day, you'll need to move your engagement ring to the third finger on your right hand, because your wedding ring should be on the ring finger of your left hand.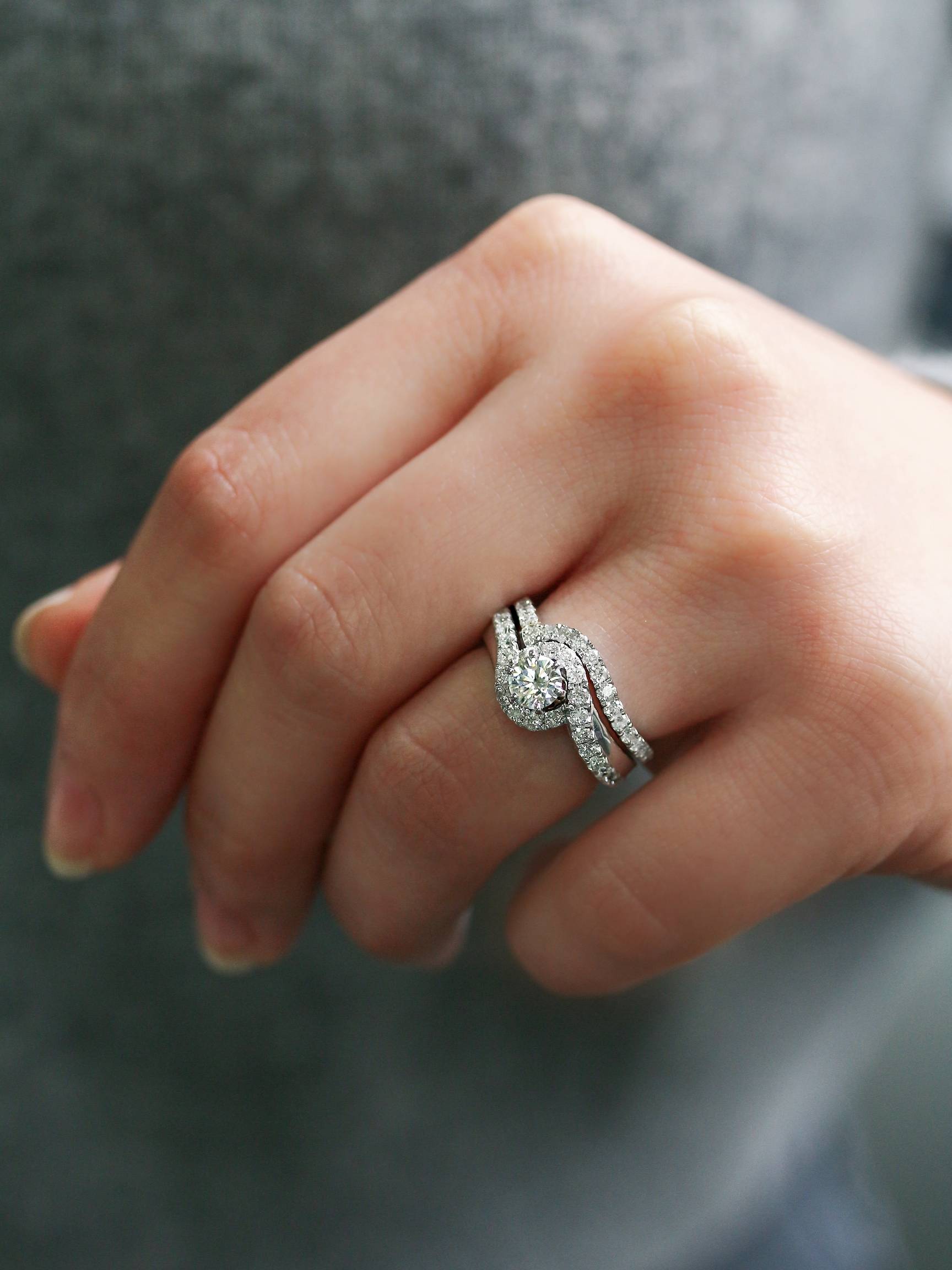 After your wedding, the engagement ring should be moved back to the third finger on your left hand while the wedding ring remains on the ring finger. However, this is not a set rule, as you can choose to wear either the wedding ring or the engagement ring on the ring finger instead of having two bands on the same hand.

Some people also prefer to wear both rings but on both ring fingers instead of the third finger. This is a trend that's becoming more popular in 2019, so if that's how you want to wear your ring, go for it.

How to wear a wedding ring
The wedding ring is a symbol of a couple's love, dedication, and devotion to one another. It indicates that two people are bonded together by a sacred vow in an undying union of love and affection. Typically, engagement rings are a lot more extravagant and luxurious than wedding rings, as they are made to look simpler and more functional for day-to-day activities.
Traditionally, only the wife is supposed to wear both rings while the husband can wear just one. However, this is a rather outdated trend that you don't need to follow if you don't want to. Instead, a couple can both wear one or two rings depending on their preferences and convenience.
One thing that's been consistent throughout the years is the finger on which the wedding ring will be worn. It's always the fourth or ring finger on the left hand, as it's believed that there's a vein in that finger which leads directly to the heart, and the ring indicates that the wearer's heart is already taken.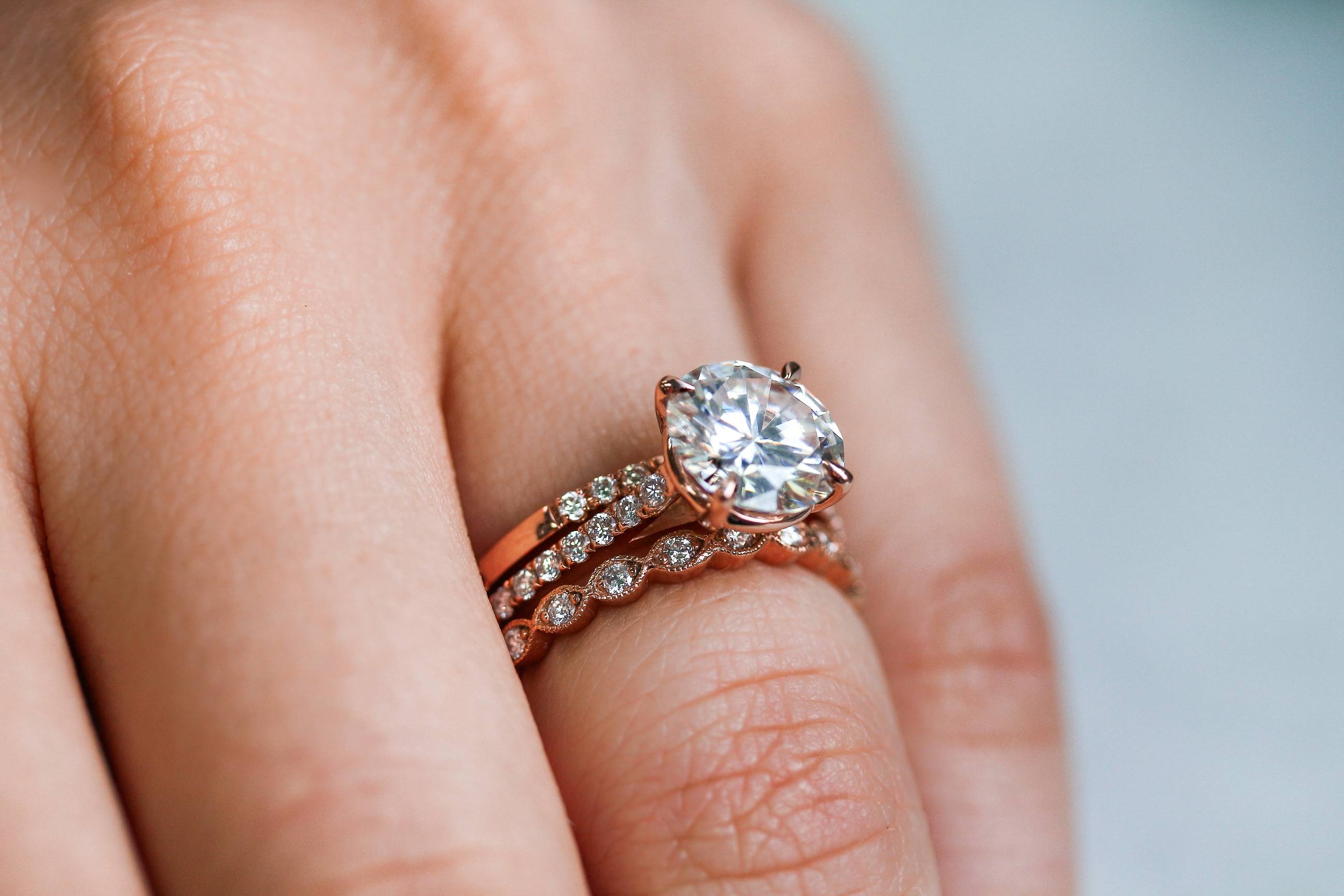 How to wear an eternity ring
The eternity band is different from the wedding and engagement rings. This is not a mandatory ring and not every couple has it, but it can be a great gift idea for your first anniversary. Couples can also give eternity rings to each other when their first child is born, to symbolize their union's permanence. An eternity band is usually made of silver, gold, and platinum and its style will vary depending on the couple's preferences. The eternity band is traditionally more focused on the carvings than the jewelry or gemstones, as they are usually designed to be simple and more conservative.
A lot of different sources claim to know the "authentic" and "correct" way to wear an eternity band, but in reality, there's no such thing. Some people wear it on the third finger of the left hand while others alternate it with the wedding ring. Therefore, a complete wedding ring set is comprised of three separate bands: the engagement, wedding, and eternity rings.

As we've mentioned, there are many ways you can choose to wear your wedding ring set. After all, they symbolize your marriage. So if there's a specific way you want to wear them, don't let anyone stop you from doing so. As long as you remain respectful to what the ring represents - the love and devotion you have towards your spouse - you can wear your ring however you like!
Are you looking for a new engagement ring? Kobelli is here to help! We provide unique, affordable engagement rings that will leave a smile on the face of your significant other. Get in touch today to see how we can help!